A TWEET by the Bishop of Worcester about a Christmas card addressed to 'The Lord Bishop and his sexy wife, Worcester' has gone viral amassing more than 13,400 likes and 1,300 plus retweets.
It started when a friend of Dr John Inge asked him where to send a card to and he told him 'just put The Bishop and his sexy wife, Worcester'.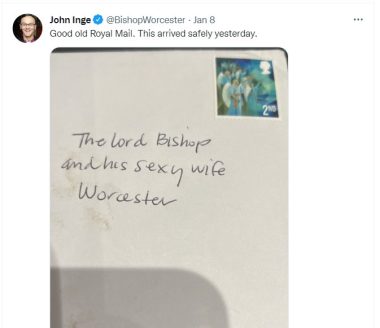 That happened and concluded with Dr Inge posting a picture of the envelope and tweeting: "Good Old Royal Mail. This arrived safely yesterday."
He and his 'sexy' wife HJ Colston-Inge were amazed at the reaction to the tweet becoming a 'twitter sensation'.
HJ said: "The arrival of this card amused us greatly, but so did the worldwide public reaction.
"We delighted in the fact that it gave so many people something to smile about in the depths of this post-Christmas, second Covid winter. Was it that 'bishop' and 'sexy' are not normally words used together that caused the sensation or simply that news was very light that day?
"Probably a bit of both (to set the record straight, I have been known to call my husband, 'the dishy bish' – and you should see what Solomon's Song of Songs in the Bible says about love, a beautiful articulation of the power of mutual and cherishing love: "Let him kiss me with the kisses of his mouth – for your love is more delightful than wine…")
"Perhaps it was also that people were delighted to see that members of the Church of England could be both humorous and approachable."
HJ, who is Director of educational charity 'Engage with China', is hoping the tale can now be used to get some serious messages across.
Writing in a letter to us, she said: "The whole story and why it went viral, however, has got me thinking. Being sexy is very subjective – and people can become an overnight sensation or cancelled overnight. Such is the power of social media. In my view, it is of national importance that China should be considered "sexy."
"Let me explain why.
"The tweet and subsequent media story also mentioned that I am a mandarin speaker and run a charity called Engage with China.
"China is not sexy at the moment and yet I am passionate about telling its story and my life's work revolves around it, building China literacy from the boardroom to the classroom through a professionals' network, Chopsticks Club and an educational charity, Engage with China."
HJ lived in China for several years and has witnessed incredible changes over the last 30 years and has many Chinese friends – including her bridesmaid and bridesman at her wedding to the bishop.
"I have seen the British public's response to China from being disinterested or dismissive (when it was poor and under-developed) to the golden era of warmth when the China-Britain relationship was at its height in 2015 and the country's president, Xi Jinping, came on a State Visit.
"VisitBritain even launched a huge campaign to woo the newly wealthy Chinese tourists, who by the way are the world's biggest spenders, with its 'Are you China-Ready' Charter?
"Right now, China is definitely not sexy. Values and systems of government are at loggerheads, there seems to be a power-play between east and west and, with the on-going pandemic, there are few pathways now available for real and personal interaction to bridge our cultures and to develop mutual understanding.
"I find China fascinating. It has undergone the most profound transformation of any country in just under 40 years. The under-dog is now a big player and its muscle is being felt around the world.
"Its size alone is astounding – geographically the UK could fit into China 44 times and 25 per cent of the world's population is from the Chinese mainland, not accounting for the diaspora.
"Its economic clout, too whether we like it or not, will have an impact on all of our lives influencing climate change environment, trade, resources, energy, tech and security.
"Our British Ambassador to China, Dame Caroline Wilson, says we must 'build a China-literate generation'.
"She is right. Not only is China already the second largest economy in the world but it is also our third largest trading partner after the EU and the USA. 250,000 students come from mainland China every year to study at our universities."
She said Brits had a long fascination with all things Chinese – from Macclesfield laying claim to be the 'western end of the ancient Silk Roads, Lord Macartney visiting China in 1793 to open trade, fashion over the centuries, along with ceramics, tea, food and cheap consumer goods.
"Practically everything we consume comes from China, such is the result of globalisation and the realities of modern supply chains.
"Add to this the fact that Chinese populations in our largest cities according to the 2021 census, is significant, with over 11 per cent of the population in London, 3.4 per cent in Manchester and 3.2 per cent in Birmingham.
"This is why China needs to become sexy again and this is why our charity, Engage with China, is building China literacy in schools.
"The role of education is to question, to compare and contrast, to challenge perceptions and to build skills and knowledge that pertain to the changing world around us.
"When I started to study Chinese in 1989 there were only 2,000 students doing so and it seemed, perhaps, an unusual choice.
"Roll forwards 30+ years, and these numbers are dwindling and some of my lecturers are still in post.
"This says something about a distinct lack of interest in China or the building of a pipeline of skills for our nation to draw upon to respond to China today.
"If we continue to speak ill of China and not find some of the positive news stories, how can we possibly hope to inspire young people to look at China through fresh eyes?
"The Rt Hon. Sir Vince Cable, former Minister of State for International Trade and leader of the Liberal Democrats, is one of our patrons – he believes, like us, that we need to engage with China not only so that we can trade and influence China but also in order that we can cooperate to tackle the biggest crisis of our time, namely climate change."
HJ said it was important for Britain to learn about how the two countries' histories were intertwined for the development of relevant skills, mobility and opportunity for our young people.
"Engage with China fills a necessary gap in our national curriculum that has not adapted to reflect one of the biggest changes in modern history, namely the growth of a superpower in our lifetime."
She added she had received some positive feedback about what Engage With China was doing with those giving it adding it was both a mammoth task and that young people in the UK not understanding China would be a 'missed opportunity'.
Engage with China is hosting a global climate change Model UN entitled 'Good Cop Bad Cop' just before Chinese New Year on January 28, involving five private and state Chinese schools.
"Academic achievement in core subjects is the number one desire for Chinese students and their parents – the environment or climate action is not in the curriculum.
"This event, with The Grange, Cheshire, acting as our host school, and involving others including King's School Worcester, Lancing College and Christopher Whitehead Language College, will enable sixth-formers to debate climate change resolutions from the perspective of another country.
"Building global awareness and listening to and respecting other voices – whether we like them or not – is an important part of being a tolerant and loving human being.
"China is not considered sexy at the moment – but it definitely should be."
Visit engagewithchina.org for more on the Engage With China charity.