A SURPRISE virtual celebration was held for a sparkling Alvechurch couple who had to cancel their diamond wedding anniversary bash because of the lockdown.
Pat and Patrick Riley were disappointed they had to cancel their planned party for family and friends due to the restrictions.
But volunteers Mandy Monger and Kirsty Cooke from Alvechurch Cares heard about the 70-year milestone moment and made sure they had a day to remember.
The pair arranged a 'virtual' anniversary party for Mr and Mrs Riley and their friends.
Everyone got dressed up and shared tea and cakes and halfway through the Zoom party a violin trio arrived outside the couples house to play them a musical tribute.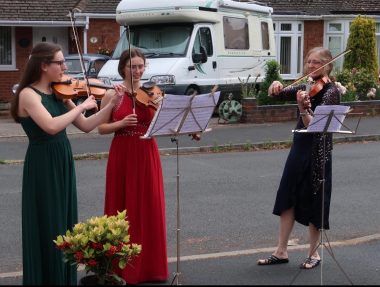 The three violinists are also local residents – sisters Megan and Rosie and their mum Liz Grainger who is a music teacher.
Mrs Riley said: "Thank you everyone for making today so special for us.
"We have taken what life gave us and have always tried to get on with all of the people that we meet."
Alvechurch Cares is a scheme set up by Bromsgrove District Councillors Kate Van der Plank and Annette English in response to the Covid-19 crisis.
As well as providing practical help such as shopping and errands for people socially distancing, the group also runs a number of different virtual networking groups for local residents.
Among them are a 'Friendship Matters' group for senior citizens, two virtual youth groups and an Emotional Wellbeing group.
Coun English said: "It was brilliant that we could help to make Pat and Patrick's 60th Wedding Anniversary special – thanks to our wonderful volunteers who organised the special surprise and particular thanks to the talented violinists who played a couple of Pat and Patrick's favourite songs which brought back lots of happy memories for them.
"We have had a great response to Alvechurch Cares with over 140 people coming forward to volunteer to help with this initiative during the Covid-19 crisis.
"Thank you all."