Government can find cash for other things but not nurses
I WRITE with reference to your story about my friend Maria Hodgetts' Covid-related hospitalisation and her accurate description of the nurses' pay rise offer of one per cent as 'disgusting'.
The Government maintains it cannot afford more.
Teresa May did however manage to find £1billion down the back of the Government sofa when she realised she needed to buy the ten votes of the climate crisis-denying, creationist, anti-LGBTQ+ Democratic Unionist Party in order to prop up her minority Government.
In the light of Northern Ireland's post-Brexit difficulties, they must be rueing the day they agreed to this.
The current Government has managed to find £37billion to allocate to failed internet boss Dido Harding (whose husband unsurprisingly is a Tory ex-minister), Serco and various other private sector companies and Tory donors to 'run' the test and trace system.
The system which has, to quote the Government spending watchdog, 'made no measurable difference' to the progress of the pandemic.
There are many other examples.
It seems the magic money tree does exist, but its fruit is only for consumption by friends of the Conservative Party.
Mark Clayton
South Wales, but ex-Bromsgrove resident of 25 years.
More careless utility works have left High Street in sorry state
ANOTHER round of careless street works on the high street extending from Burtons to Savers and then Savers to New Look (see picture).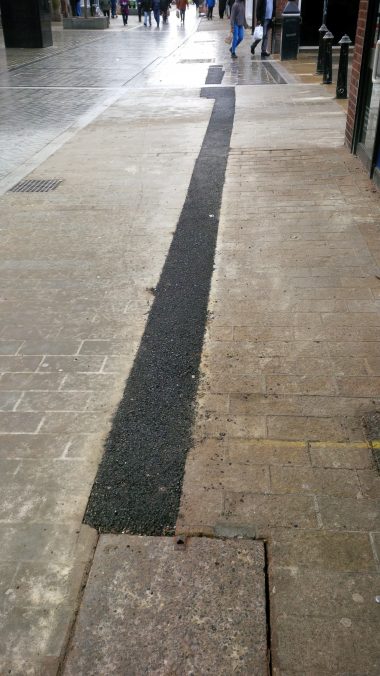 It looks to be BT related as the terminating covers are marked 'Post Office telephones'.
I know council policy is to ensure the original surface is replaced within six months, but that still hasn't been done.
And then there is the Perryfields development.
As someone who's lived in Sidemoor for 30 years, without major infrastructure improvements, we're going to be stuck in a constant traffic jam.
The need for the Western Relief Road is so clear, but the powers that be refuse to accept it!
Having spoken in front of the planning committee a few times, I have little respect for them.
I once spoke against an application but found myself chatting to the developers after the meeting.
They could not believe how incompetent our committee was.
I do wonder how many of them actually live in Bromsgrove given the decisions they make.
Anyway, moan over.
Keep up the good work with The Standard.
Mark Norton
Sidemoor
Three cheers for BBC Hereford and Worcester's Sunday services
THREE cheers for BBC Hereford and Worcester.
On Sunday, March 22, last year I woke up and tuned into my local radio station – lockdown was beginning and we were not allowed to go into churches any longer.
Attending worship on a computer was not an option.
I turned on the radio at 8am for a very special service which was absolutely lovely.
A few days earlier, the BBC announced it would be broadcasting church services as the regular ones had been cancelled because of Covid-19.
The national wireless congregation would be able to tune in at the same time every week to hear a service led by a leader from a different denomination.
So many people were self isolating but it did not mean they had to be isolated.
Local radio was a great way to bring people together, allowing large numbers to worship at a difficult time.
The first one was on Mothering Sunday 2020, given by the Archbishop of Canterbury across all 39 local BBC stations.
Since that first special programme, I have tuned in all the time.
It has been absolutely wonderful and I phone them every week to tell them so.
We have had services led by the two Archbishops of York – the first was John Sentamu and then John Cotterill, by the musician Graham Kendrick, by poets, street pastors, the Salvation Army – we have been all around the country and have joined with all sorts of people.
What a lifeline it has been.
A year later and it is still going on.
If you cannot zoom and even when churches open – if you can't get out – why not put on your radio every Sunday from 8am to 8.30am to tune in.
Janice Boswell MBE
Belbroughton
EDITOR'S COMMENT
BROMSGROVE needs more housing and affordable homes – that is not in question.
The 1,300 homes (including 390 affordable) on Perryfields would be welcome – both for the council's housing targets and for the next generations to live.
The traffic modelling – closing off Perryfields Road to through traffic and junction alterations, however, looks questionable at best.
A mistake will inevitably bring even more gridlock.
As campaigners have said, once the homes are built, you cannot demolish them for another road.
We welcome your letters…..
What pressing issues do you feel need addressing in Bromsgrove, Droitwich, Rubery and South Birmingham? Send us your views to editor@bromsgrovestandard.co.uk