THE annual Tardebigge Big Breakfast was hailed a hit again after more than 425 people went along on Saturday.
There were a multitude of mouth-watering items on offer – from the traditional 'full English' to cereals, toast, fruit and more.
The event, organised in association with Bromsgrove Farmers' Club, was held at the village's Community Hall.
The breakfast raised more than £3,800 last year for the Primrose Hospice and Cancer Research UK, taking the total amount collected over the years to more than £42,000 and it is hoped a similar amount will have been raised this time around.
Helen Hirons, one of the organisers with Sarah May, said: "It has gone really well again – it was busy from the word go.
"It's very much a team effort with Bromsgrove Farmers' Club who without, it would not be possible."
Among those there at the weekend were a 21-strong group from the Avoncroft Hurriers (pictured below) who head to the event each year after their weekly run.
There were six family members of runners also in attendance.
Tashy Tandy from the group said: "We use it every year as our annual birthday celebration as it happens around the same time – we are celebrating our fourth anniversary today."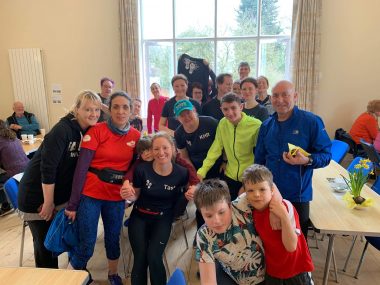 The social running group meets on Saturday mornings at 10am at the Ewe and Lamb car park.
New runners are always welcome.
Others who attended travelled from afar afield as Rowley Regis and Evesham for the famous Tardebigge Big Breakfast.