CREATIVE commuters have been praised by the Worcestershire Community Railway Partnership for coming up with winning names for lines running through the county, writes Shnae Harrison.
Sue Lloyd's suggestion for the 'Saltway Line' was chosen for the stretch between Droitwich and Bromsgrove to Barnt Green.
The line going through Hagley, Blakedown, Kidderminster and Hartlebury is to be named 'Wyre Line' following Peter McNougher's nomination.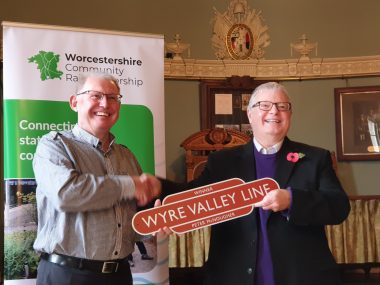 And the line from Barnt Green to Alvechurch and Redditch has been renamed 'Arrow Valley' by Margaret Evans.
The selected winners were announced two weeks ago at the Worcester Guildhall at the Railway Partnership's second anniversary event, a commemorative memento was awarded by Alan Amos, a Worcestershire County Council Cabinet member of transportation.
The Rail Partnership has created Station Adoption Groups of volunteers with its communities, including the Friends of Droitwich Spa Railway Station, which started its clean-up in May with floral touches added within the station. More excited improvements will soon be arriving at Droitwich Station to create a friendly atmosphere for commuters and visitors.
Colin Major, the Worcestershire Community Rail Partnership's vice chair, said: "We are delighted all 18 stations in Worcestershire are now linked to named lines enabling the Community Rail Partnership to promote travel by rail and the stations not only to the local communities, but also to attract visitors to the businesses and places of interest served by the lines."