PEPPERLAND is a highly praised, contemporary dance work loosely based on the Beatles 'Sgt Pepper's Lonely Heart Clubs Band' album.
'Loosely' being the operative word – as if you go along expecting a Beatles sing-a-long you will be disappointed.
However you cannot fail to be wooed by the sheer dexterity of the all all-American Mark Morris Dance Group.
They dance with such lightness that you never hear a footstep – they seem to hold each in mid air effortlessly – almost supported by a single fingertip. There is such trust and confidence amongst the cast that they seem as one entity.
The show at the Birmingham Hippodrome opens with a long sustained chord that apparently ended the final track on the original album. The cast is gathered together like the tight bud of a flower and then unwinds in a unique spiral where their bright pastel coloured costumes shower us with wave after wave of what I can only describe as 'good karma'.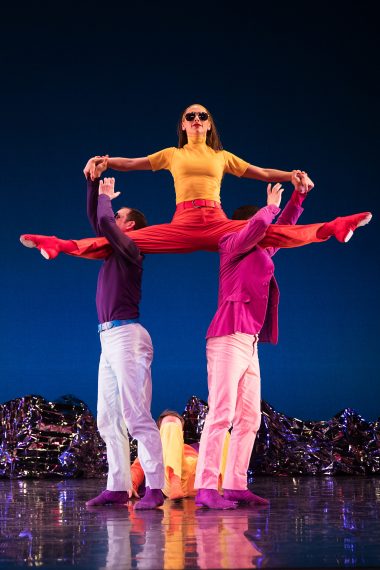 'Sgt Pepper' was recorded when the Beatles were in the throws of their LSD induced quasi-religious period where they imbibed, meditated, embraced flower power and generally hung out with teacher and guru 'Maharishi Mahesh Yogi'. The front cover of the album featured all sorts of famous folk alongside the Beatles in that memorable of all montages – Artistic Director Mark Morris presents this as what he terms his 'Magna Carta'. The cast strike up iconic poses to recreate the tableau and include diverse luminaries from Marilyn Monroe through to Albert Einstein. It is a unique essay in stillness – once the pose is struck nobody moves a muscle.
The Beatles as a band comprised three guitars and a drummer – here the band consists of keyboard, piano, soprano sax, trombone percussion and a Theremin (this is an electronic musical instrument named after its 1928 Russian creator Leon Theremin. Two metal antennas' – one for volume – one for frequency are played without physical contact by the thereminist. The result is like that of an eerie female soprano).
There is also an excellent baritone vocalist (Clinton Curtis) who provides the occasional lyric to remind us of the original fab four tracks.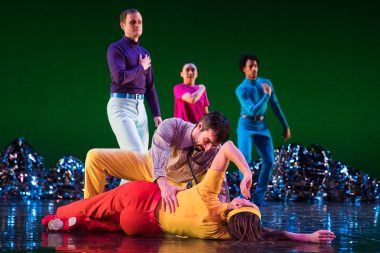 The gentle doffed cap to growing old 'When I'm Sixty Four' still has a music hall drift but with a whacky 'three beats to the bar' underscore. The anything but routine 'routine' is threesomes in the middle and two colourful moving cacophonies on the outside, which pulsate like sponges on the Great Barrier Reef. Two spin out from the three, one to either side then two more make a new three in the centre.
'Within You Without You' takes George Harrison's Indian music homage into new realms of hippidom. Both music and dance embrace a melding of West and East uniting to offer all the euphoria of ganja without the lighting of a single leaf.
'Penny Lane' is the only number that is instantly recognisable – ironically not on the Sgt Pepper album but was apparently planned to be. It does however provide the perfect beat for hopping through the streets of Liverpool, laughing, loving and dreaming delicious thoughts.
The show concludes with a relatively original version of the title song and a joyous routine ending with the cast in the same tight bud as they started.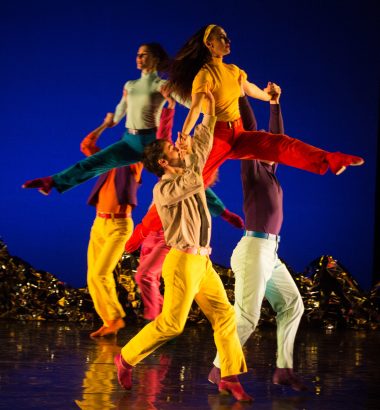 As the lyrics sing out 'We hope that you enjoyed the show….' I cannot pretend to say I understood everything I saw but I enjoyed it greatly. I felt I had been introduced to a new form of visual artistry, which was a mystical as it was clever. It left me with a feeling of well-being and ironically 'the munchies' namely a burning desire to seek out a burger – preferably a multi – coloured one.
The Mark Morris Dance Group Pepperland tour continues at various UK venues throughout April and May. If contemporary dance is something you already enjoy or would like to try then seek this out – it's the best of its genre.
Review by Euan Rose.