Rob Harrison has spent his entire life silently battling with a crippling social anxiety disorder.
After the passing of his father he realised that life is too short. He challenged himself to get in a boxing ring and fight in front of hundreds of people to raise money for The Children's Air Ambulance.
Midlands man Rob who lives in Coventry not only overcame his social anxiety disorder to get into the ring but he is also featured on the first episode of a new BBC current affairs programme that puts current affairs into the hands of the people – and which tells their stories in their own words.
We Are England delves into the vital issues that matter most to audiences, told from their perspectives and as they see them. Themes for the first series range from mental health and the housing crisis, to unsolved murders and young entrepreneurs striving to set up successful businesses in the face of adversity.
The programmes for BBC One have been made from hubs in Birmingham, Leeds, Newcastle, Bristol, London and Norwich over two series. There will be 60 programmes per series and 120 per year.
Audiences will hear from people like Rob who took on the biggest fight of all against his own social anxiety disorder. Other stories include army veterans suffering with mental health problems who are retraining as HGV drivers. There are also stories of pastors keeping a city's streets safe at night and the family of Michelle Bettles 20 years on from her murder as police reopen the case and investigate new lines of enquiry.
Aisling O'Connor, Head of TV Commissioning for BBC England, says:
"We Are England is a  new current affairs programme for our audience in England that will get to the heart of subjects that matter nationally, framed through a local lens.

"It's so important that BBC England reflects its audiences up and down the country. This series will deliver a range and rich diversity of story and content, told from the perspective of our local communities."
The BBC announced earlier this year that award-winning executive producer, Sarah Trigg, will lead the new peak time programme. Sarah has made hit documentaries and factual shows for BBC Two, BBC Three and Channel 4. Most recently she led the Birmingham base of independent producer Wonder.
Sarah says:
"The brand new nationwide current affairs programme will provide a voice to our diverse regional audiences.

"Our talented teams across the country have been working hard to source and discover fresh content which  explores a modern and fast-changing England and we can't wait for viewers to see it."
We Are England is unlike any current affairs programme currently on TV and starts on 26 January 2022 at 7.30pm on BBC One.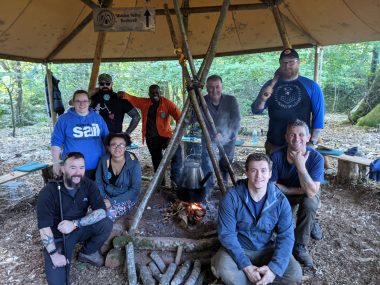 On another episode we meet a group of Woodland Warriors. Photo credit: BBC