Kick back into action this new year with a wide range of exciting Taekwondo and fitness classes available from new local instructor Katie Billingham.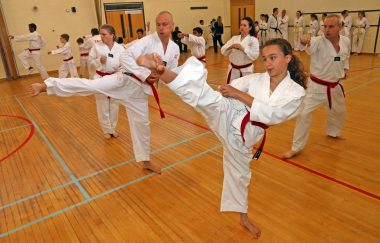 Katie Billingham, a 5th Dan Black Belt and Taekwondo Association of Great Britain Instructor is extremely excited to reopen the Wyre Forest martial arts school in Droitwich Spa.
The club had run successfully for many years in the area by the talented Matthew Lennard. But due to growing commitments and the overwhelming success of his Taekwondo classes in Redditch, the time had come to pass the torch onto Black Belt Katie who had more time to invest in the Droitwich students.
All was set for a big reopening this week but due to the pandemic, the club has relaunched online and is now welcoming local residents into a selection of exciting martial arts based fitness classes 7 days a week on ZOOM!
The club is prepared and ready for Covid-Certified, socially distanced and secure real-life classes but for now, people of all ages are encouraged to jump in with their ONLINE classes with multiple training options available.

Taekwondo for children, teens, adults and family groups, boxercise, KickFit, stretching classes and personal one-to-one training is also available. 
The benefits of Taekwondo are endless for people of all ages and abilities.  You can gently progress your fitness and flexibility at your own pace, while having fun and improving your confidence, memory, motor skills, social life and so much more.
The classes for children are aimed at young starters ages 4-11. These fun filled classes introduce the basics of martial arts, build confidence and skill, and help develop young minds and bodies for a strong future. There is no pressure to do belt gradings in this session, children are free to just enjoy training. Or for those little aspiring black belts the instructors can help them work towards their next stage at their pace, while still having lots of fun.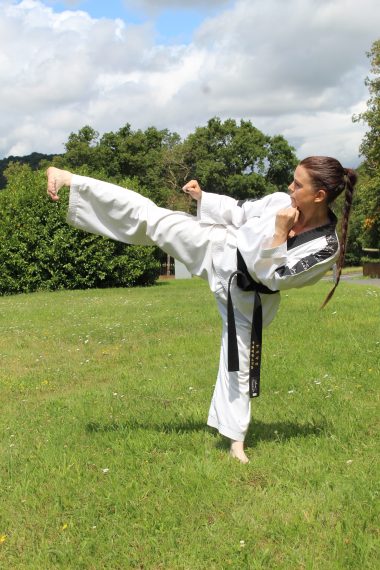 Classes for teenagers focus on keeping active into their adult years as a key strategy to maintaining a youthful body, focused mind and a self-disciplined, assertive attitude.
The classes combine fun fitness with new challenges while the teens grow in confidence and make new friends.  This is an excellent activity to do as part of a Duke of Edinburgh Award Scheme or as part of job / university applications due to is well-known reputation for character building.
Family classes are also available during normal times where the whole family group can train, learn and grow together. Excellent for maintaining solid child-parent relationships as they grow up.
Instructor Katie Billingham, is fully qualified, licensed and insured, DBS checked, first aid trained, covid certified and risk assessed. She's also a fully qualified personal trainer and boxercise instructor, a member of the Register of Exercise Professionals, with a Level Two Group Fitness Instruction qualification and 26 years of Taekwondo training under her belt. Did we mention that's a black belt?
Katie has devoted most of her life to her students and her art. She is passionate about the overwhelming number of benefits Taekwondo provides and hopes to provide a safe, friendly place where people can grow in skill, confidence and fitness.
You are in good hands at Droitwich TAGB Taekwondo.
Contact Katie Billingham to book a FREE TRIAL WEEK at Droitwich Spa TAGB Taekwondo ONLINE.
Call 07885 293088, email DSTAGB@gmail.com, or see www.WyreForestTaekwondo.com for more information.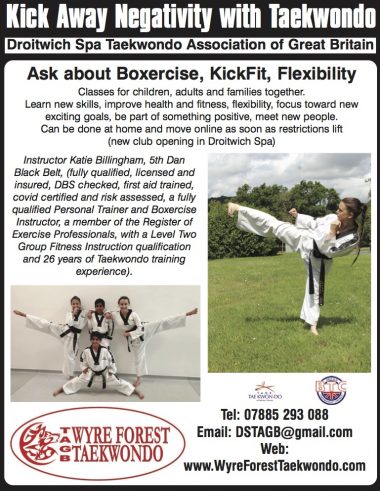 This is part of a sponsored post by Wyre Forest Taekwondo. For more details please click here.