ORIENTEERING is an adventure sport enjoyed by families, runners and walkers and a new video has been launched to encourage newcomers to get started in this sport on a permanent orienteering course.
The video can be downloaded at https://www.youtube.com/watch?v=y4yfyUwkUxw.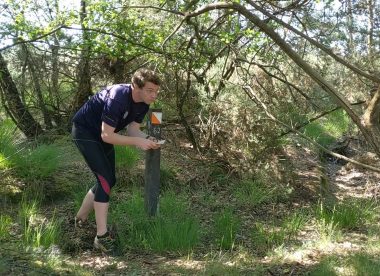 The video has been produced by Orienteering Foundation and for more information on the 500 nationwide permanent orienteering courses visit www.britishorienteering.org.uk/pocs.
Locally, Octavian Droobers Orienteering Club have introduced permanent orienteering courses in country parks in ten locations around Coventry, Solihull, Warwickshire, Daventry and Banbury.
It is a great way to discover lovely parks in a socially-distanced way. Searching and locating the checkpoint posts placed around the parks using specially drawn maps – a bit like a treasure hunt – is a great way to exercise and get fit outdoors in the fresh air.
A full list of these venues and how to download the maps free of charge are on the club website at www.octavian-droobers.org – see newcomers page.
For additional information about the permanent orienteering courses, visit websites of the parks for latest opening times, car parking and other facilities.
As well as the courses on offer from Octavian Droobers, there are many permanent orienteering courses in neighbouring areas offered by other clubs, including one at Arrow Valley Park in Redditch managed by Harlequins Orienteering Club.
Visit www.britishorienteering.org.uk/poc for a full list of courses. For details about the Redditch venue, email Peter Rose at peter@tillerresearch.co.uk.