Rock Hill is getting a bad deal from the council
I AM writing to express concerns that my community in Rock Hill is getting a bad deal from our local authority.
Two weeks ago it was announced that the development of the Whitford/Rock Hill site was given the go-ahead by the Planning Inspector – these rushed plans would see a dangerous, not fit-for-purpose roundabout installed along Rock Hill at the junction with Fox Lane.
Heavy vehicles carrying stock for our local shop will be expected to negotiate this obstacle course. How? I do not know.
Furthermore, if/when the Whitford Road site is developed and traffic in the area grinds to a halt, it will be my community that suffers as the B4091 and the surrounding areas become even more congested, worsening our air pollution problem.
All of this comes as hard-working residents are expected to foot the bill for yet another global crisis – the council refused our plans to freeze council tax, opting instead to place the burden of funding our recovery on the people of Bromsgrove.
I completely oppose all the irresponsible actions mentioned above and will continue to argue that the people of Rock Hill deserve a better deal.
Coun Harrison Rone-Clarke
Rock Hill Ward
Can you help the Easter Bunny give children a cracking Easter?
DEAR Bromsgrove,
It doesn't seem five minutes ago it was Christmas, and didn't you all do a great job in supporting the Bromsgrove Community Christmas – here we are approaching Easter.
I have been working from home and to be perfectly frank I am struggling with the idea of having to go out to work.
The thought of shopping for the eggs and then delivering them all and attending Easter Egg hunts, is feeling a bit overwhelming.
So, good people of Bromsgrove, I have another challenge.
This year, I want to make sure every child in Bromsgrove gets an Easter Egg, regardless of the family situation – that's about 22,500 in all.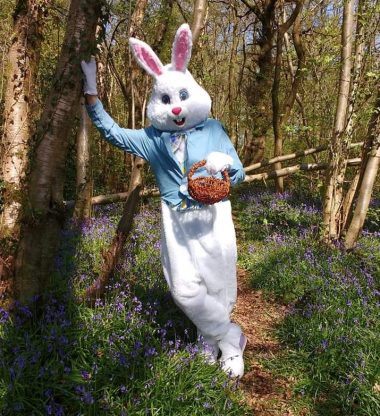 In order to achieve this huge collection of Easter Eggs and the arrangements for Easter Egg hunts, I have engaged the help of the Bromsgrove Children's and Young People's Provider Group, a partnership of a number of Bromsgrove organisations.
They all worked with Father Christmas (he and I are great friends) and they have suggested I write this letter to you, their friends and supporters to ask for your help. So far, together, we have donations which will allow us to purchase 3,000 Easter Eggs (if we wait for a buy one get one free offer).
We also have a number of local stores which will be donating eggs, so we think we probably only need another 19,000!
We will also need people to help us collect Easter Eggs, set up Easter Egg hunts and generally be great.
If you want to drop off Easter Eggs you can do so at Morrisons in the foodbank trolleys, NewStarts and The Basement Project (ring before dropping off to check someone is in) and if you want to help out with volunteering then please get in touch with Sarah McIntosh on 01527 64252 (Ext 3527) or by email at sarah.mcintosh@bromsgroveandredditch.gov.uk
So Bromsgrove – are you ready? Are you steady? Let's crack Easter!!!!!!
The Easter Bunny
Rishi needs to think of those on JSA and ESA
SO Rishi Sunak once again gives away £20 a week to those on Universal Credit and helps out his business pals but yet again neglects those on JSA and ESA for the extra support.
They have to live through the pandemic too you know!
What a slap in the face to some of the most vulnerable in society.
Shame on you Sunak and shame on Boris too for backing him.
They won't be using foodbanks to survive will they.
They will probably spend more on coffee lunches than some do on grocery shopping.
Geoffrey Brooking
EDITOR'S COMMENT
THE ROAD map is in place, Covid cases are coming down and vaccinations going up.
Hopefully our local shops, pubs, restaurants, cafes and other businesses will be back open soon and when they do they will need some much needed support.
So let's make a pledge to eat, drink, visit and shop local when we can.
We have all supported each other so well during lockdown – we need to do the same with the recovery.
We welcome your letters…..
What pressing issues do you feel need addressing in Bromsgrove, Droitwich, Rubery and South Birmingham? Send us your views to editor@bromsgrovestandard.co.uk