Retired professional chef Paul James, author of travel and food blog Recipes From My Travels, writes for our paper.
A SERIOUS illness nearly took my life and led to me having to give up the career I loved at the age of just 45.
For the past three years I have been retired and, for the first two, I totally fell out of love for cooking and the industry – mainly due to feeling bitter about losing my career.
Last year on a short trip to Kassiopi in Corfu, something connected – seeing the culture and beautiful scenery on show, but mainly the amazing food that was on offer rekindled the spark back inside me.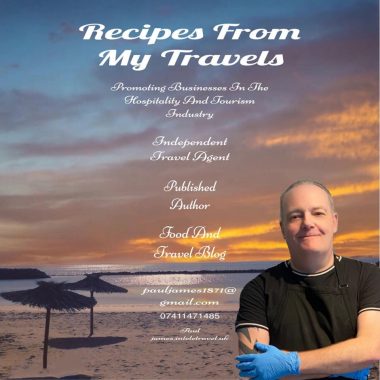 So I decided to get involved again, I started my own 'Recipes From My Travels' blog.
To be honest it started by just recreating recipes from places I've been fortunate enough to visit.
I'm not very social media or computer savvy.
The blog has now grown to over 2,500 followers and well in access of 2million reaches in a year.
I have my first book due to be published soon with Austin Macauley, as well as my first ebook, available on Amazon.
All the proceeds will be donated to the Cancer Centre in Birmingham, which was marvellous in successfully treating my eldest son Mark last year.
My Recipes From My Travels blog continues to promote businesses in the hospitality and tourism industry.
I love collaborating with individuals or businesses on projects within this industry, setting them up to progress further.
I adore cooking all types of food, but being brought up in a very close-knit family environment and surrounded with close friends, it gave me the love of homemade comfort food.
Let me take you on a little journey around the world with delightful dishes and a couple of stories along the way from my own 'Recipes From My Travels'.
This week's recipe –
Whisky infused pork ribs with chilli and lime glaze
I first tasted this dish in a small diner just off the Las Vegas strip five years ago.
We were in Vegas to attend my niece's wedding – it was a beautiful ceremony – even without Elvis.
This recipe reminds me of my time in Vegas as it brings back the menus from that break and is a fine example of this American style of cooking.
The dish really does benefit from overnight marinading so the flavours penetrate the ribs.
If you can, use a good quality whisky or bourbon, I used a non-alcoholic whisky as I'm teetotal but it still had the same amazing results.
INGREDIENTS:
Small rack pork ribs.
200ml of good quality whisky.
1 red chilli, finely sliced.
1tbs of dark syrup.
Salad for decoration.
METHOD:
In a lidded container soak the pork ribs overnight or for at least four to six hours in the fridge along with the whisky and half of the sliced chilli (seeds left in or out) and the juice of half a lime.
Pre-heat your oven (fan oven) to 180c.
Remove your ribs from the fridge and let them come to room temperature for about 15 minutes.
Place your ribs on a baking tray and add your dark syrup to the marinade that remains in your container and brush liberally over the ribs.
Cover with foil and bake in the oven for 20 minutes, this helps steam the meat making it moist and tender. Remove the foil and spoon the marinade over the ribs and cook uncovered for another ten minutes until the pork is thoroughly cooked.
Cover and rest on a warm plate for 15 minutes then serve with your salad, wedge of lime and a sprinkle of the remaining sliced chilli.
Rice or American style fries go equally well with this.
All the best and enjoy.
For Paul's ebook, visit amazon.co.uk and click here for his 'Recipes For My Travels' blog on Facebook.