RETIRED professional chef Paul James, author of travel and food blog Recipes From My Travels, writes for our paper.
LET me take you to Benidorm, a place renowned for its boisterous Brits abroad, beers overflowing, singing and dancing in the street, but as I don't drink anymore I left all that to others.
I found Benidorm a fascinating place but the cuisine was mostly geared up for the tourism trade, fish and chips, kebabs, pizzas etc…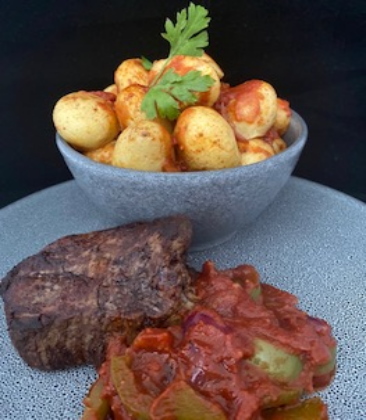 But delving deeper, we found beautiful little eateries serving more traditional dishes more accustomed to Spain.
None more so than Tapas Alley, a scattering of establishments all selling their own versions of various small plates of food.
One plate I did try was a beef stew in tomato sauce, nice as it was I just wanted to elevate it a bit more.
So here is my version of this dish, but using fillet steak napped with a Spanish Sofrito Sauce and served with patatas bravas.
Oh and by the way, I did have a little dance with an Ossie Ardiles lookalike on the accordion…..well I think he was a lookalike!
But then again, he did know all the words to "'Spurs are on the way to Wembley'.
This week's recipe –
FILLET STEAK WITH A SPANISH SOFRITO SAUCE AND PATATAS BRAVAS.
Serves one (but could quite easily half the the fillet and serve two)
INGREDIENTS
For the steak
200g Fillet Steak
Spray of oil
Knob of butter to baste
Salt & pepper
For the patatas bravas
2 medium size potatoes
Spray of oil
1tsp of paprika
For the Sofrito sauce
500g pasata
1 green pepper sliced
1 finely sliced red onion
1tsp of garlic paste
1tsp of olive oil
1tsp of paprika
METHOD
Cut up your potatoes and place in a pan of cold water, bring to the boil, simmer and cover until par boiled.
In a hot frying pan, lower the seasoned and slightly oiled steak gently into it, remember the pan needs to be hot otherwise it will just 'stew' instead of getting a nice golden crust on both sides and importantly the edges too. Add butter and continuously baste the meat.
For a medium to well done steak, it's about four-and-a-half minutes either side.
Remove from pan and cover with foil and rest on a warm plate until the patatas bravas and Sofrito sauce is ready.
Drain the potatoes, place on a baking tray and season with salt and paprika.
Bake in a preheated oven at 180c for around 15 minutes or until golden.
In the same pan as the steak, wipe clean and add a bit of oil, fry your onions and pepper until soft, add the garlic paste and paprika and cook for a further 5 mins.
Add the pasata and warm through.
Assemble on a plate with the Sofrito sauce napped over the steak and a good sprinkling of paprika on your potato bravas.
All the best and enjoy!