KINKY Boots, with book by Harvey Fierstein and music and lyrics by rock royalty Cyndi Lauper has won a Broadway Tony, a West End Olivier and enjoys a massive worldwide fan following; at last it's made its long-awaited debut in Birmingham.
Based on a real-life story, Kinky Boots tells of how young Charlie Price is forced to take over his family business of men's shoemakers when his father unexpectedly dies.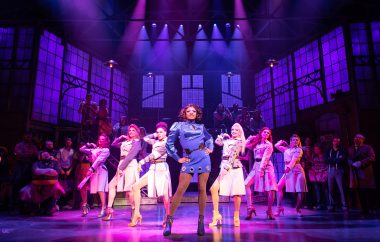 Joel Harper-Jackson gives an engaging performance as Charlie who takes us gently on his journey from naive university graduate starting life in the bright lights of London with fiancée Lauren (a lovely Paula Lane) to facing up to the challenges of inheriting a failing family business employing people he soon gets to care about deeply.
Before returning to the Northampton factory though, Charlie encounters a man dressed in women's clothes being attacked by some homophobic lowlifes. Charlie leaps to the rescue – unnecessarily as it happens, as this is Lola who may dress like a lady but has the punch of a prizefighter. Charlie gets knocked out and Lola takes him back to recover in the dressing room at the drag club where he works. It is here Charlie sees the poorly-made boots and shoes that the female impersonators have to wear.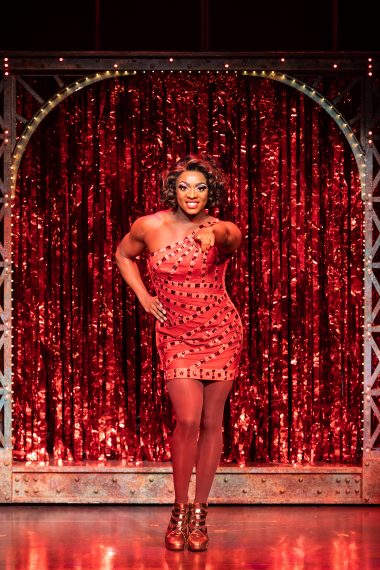 Kayi Ushe absolutely owns the role of Lola and commands the stage whenever he is on it. He makes us laugh, smile, cry with a vibrancy that is all embracing. His rendition of 'Hold Me In Your Heart' is a showstopper.
Charlie discovers the factory has been losing money for years – no one wants to pay for quality shoes anymore, it seems. He sets about the sad business of making the work force redundant when Nicola (a delightfully 'girl-next-door' contribution from Helen Ternent) pushes him to think again. Charlie does just that and invites Lola up to design 'Kinky Boots' for men who like to dress as women.
Whilst the text is largely frothy, it enjoys some great comedic lines, delivered particularly by Lola with a waspish wit. There are also has gritty moments of prejudice which are handled with elegant brush strokes.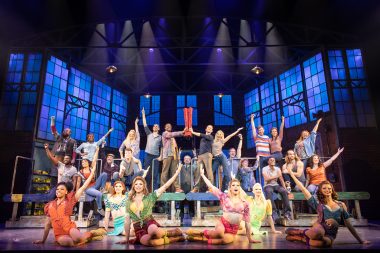 It's not really a spoiler to say that everyone falls out, makes up and unites to save the factory. This happens where else but on a Milan catwalk in a finale that has the whole audience on its feet.
A special mention to Demetri Lampra and Adam Price as Don and George – both very warm and watchable, the stunningly well-toned 'Angels' Drag Queens dance troupe and the large supporting ensemble that never falter.
The choreography by Jerry Mitchell (who also directs) in 'Everybody Say Yeah' with much of it taking place on the factory conveyor belts will linger for a long time, as will the haunting 'Soul Of A Man'.
Costume Designer Gregg Barnes has produced a sensational, sexy and downright sassy collection of spectacular dresses, costumes and of course those kinky boots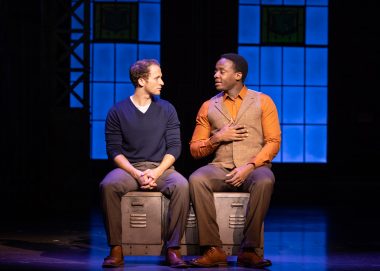 Many of the audience were dressed as outrageously as the cast, actively encouraged to do so by the theatre and it was often difficult to tell the Queens from the Kings – echoes perhaps of the Rocky Horror Show devotees
Kinky Boots is simply a joyous show that celebrates friendship, understanding and tolerance of each other's quirks that will have you smiling for days. I hope to be dusting off my bright red patent leathers for a feel-good top up before it leaves town.
Kinky Boots runs until March 23. Visit https://www.birminghamhippodrome.com/calendar/kinky-boots/ for more information and tickets.
Review by Euan Rose