Olly Murs is coming to the Midlands and headlining at the Solihull Summer Fest this September. He will be performing his full 90-minute concert and he wants you to come and dance your feet off.
The Solihull Summer Fest team are promising that this year's event will be "the Ultimate Feel-Good Music Festival" and a weekend to remember after lockdown life.
Now rescheduled to Saturday 11 and Sunday 12 September 2021, Olly Murs is headlining on Saturday with his full 90-minute concert set at Tudor Grange.
Having leapt to fame on The X Factor in 2009, he has now sold over 10 million records worldwide.
We caught up with Olly to find out how he's feeling about getting back on stage, what fans can expect from the show and how excited he is to visit Solihull…
Now that it looks like life and shows are starting to get back to normal, how excited are you to get back out on tour?
I'm super excited, time to let loose. It's been a rubbish 18 months so looking forward to entertaining my fans again, getting on stage and doing what I do best.
Do you have any tour rituals that you're excited to bring back?
I can't wait to see the band again. Our main tradition is doing a big huddle before the gig, pumping each other up and getting out there and performing for the fans, so I'm looking forward to that as it's been so long since I've been able to be with them all. There's always a medley or two that we do at my summer shows that have become a bit of a tradition, so we've brought back an old medley that we love doing, and I'm sure the fans and the people watching are going to love it.
What can fans expect from the show?
Lots of energy, lots of fun and just a really great gig. I'm excited to entertain the fans again, I love entertaining people. I've been entertaining people on social media and Tik Tok, but now it's time to do the real thing and I can't wait to get on stage again. So expect lots of energy, and be prepared to dance your feet off!
What songs are you looking forward to performing live the most?
It's been so long since I've been on stage, it's been almost two years so really looking forward to singing all the fan favourites, right back from 2010, and we've also got some fantastic covers we're doing as well. Overall, I'm just super excited to be back on stage performing again.
You've kept up an impressive fitness regime over the last year – is this something you're keen to keep up as life starts to return to normal?
Well, I've got to say I think I'm probably the fittest I've ever been going into a tour. Normally, I've been singing and performing loads, and the one thing I'll need to improve on is my fitness but this time around I'm really fit and ready to go. We're going to start rehearsals next week to gear up for my first show at the end of the month, and I'm feeling really, really good. I'm going to continue this fitness regime, well, hopefully for the rest of my life! I want to be super fit now, I love it.
And are you looking forward to coming to Solihull?
Absolutely! Solihull get ready. It's time to get loose and dance your feet off. I can't wait to see you!
Other artists appearing on Solihull Summer Fest's Main Stage on Saturday include Alexandra Burke, Marti Pellow, The Brand New Heavies, Louisa Johnson, Ivor Novello, Artful Dodger and The Blow Monkeys.
Then Sunday features another outstanding line up with 80s' favourites including Tony Hadley, Kim Wilde, ABC and Nik Kershaw.
Organiser, Ian Rogers, said:
"After a very challenging 17 months for our industry our team are completely focused and passionate about delivering the best-ever Solihull Summer Fest. We are very excited to have secured Olly Murs to headline our Saturday and the support and response to our September line up has been nothing short of overwhelming. We are fully on course to sell out."

"We are working closely with Public Health England and Solihull Borough Council and cannot wait to welcome everyone to a safe, fun, incredible weekend of much needed live music and entertainment."
Tickets, including VIP options, are currently for sale. For more information and options to buy tickets online visit www.solihullsummerfest.co.uk or  go to Olly's website by clicking here.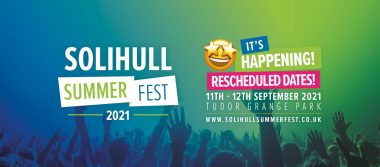 Photo credit: Olly Murs – Mark Hayman